At night around 2-3 am of 16th October 2021, Sunday, a herd of dozen wild elephants created havoc by breaking into a village in Makum Pathar of Margherita, damaging properties as well as destroying three (3) houses and crops.
The three victims whose houses were destroyed were identified as Mairam Gowala, Sunil Khariya and Priyanka Nag who were residents of the village. It was later known that it was not only the first time when the wild elephants created such havoc rather it had already occured 7-8 times where their houses were completely destroyed. They informed the Forest Department every single time but couldn't get any help through them till today.
A lot of villagers faced this problem and are helpless without proper house and wrecked crops all caused by the wild elephants. Some have also experienced near to death situation and faced harm. Not receiving any help from the Forest Department had left the people as well as the situation of village in despair and devastated.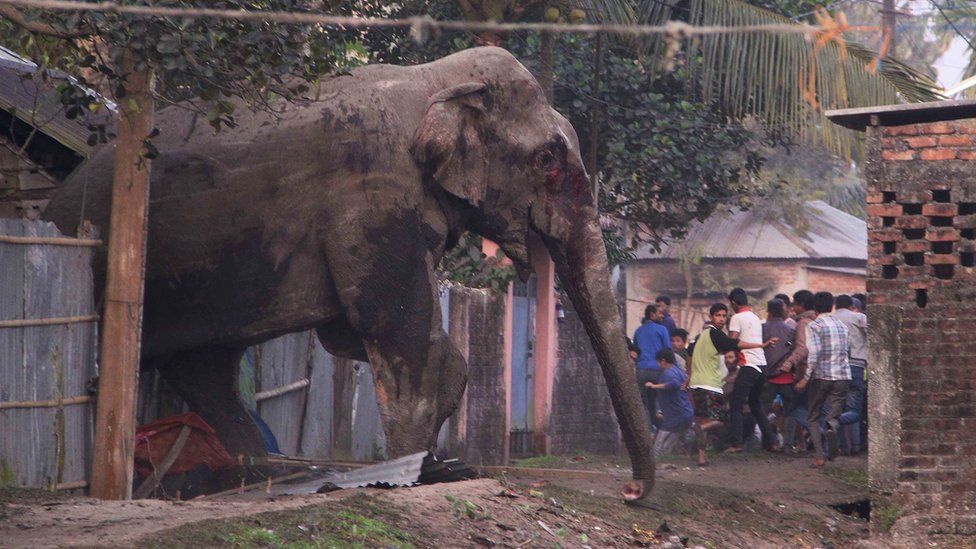 The houses of the three victims were wrecked, the trees uprooted and the small farm or crop field near their houses completely smashed. 
When asked to one of the victim's family member she said "The elephants first went to eat crops and when the people started chasing them they turned around and entered our area and ate the potato and banana trees planted near our house and when it came towards our house we all ran out with everyone running for our lives. They came and took away a rice bag and ate cooked rice and vegetables that were kept in the kitchen. "
When the reporters went to ask about the situation to another victim he said, "The elephants broke and destroyed my shop, luckily the people chased them away or else I don't know what would have happened. The elephant visits are common nowadays, yesterday it broke one house and today it broke 3 houses. If they continue to destroy the houses and crops of the people then how will we people survive. We informed the Forest Department but that was of no use. The government should take some steps for our safety, my house had been broken fo about 8 times till now but I got no help from the government. They just come takes some photos and goes back. When Ranjit Chetia was there he would atleast give us some compensation but now we don't even get a dime."